Celebrity Big Brother: Who wins?
It's the last day in the Celebrity Big Brother house...
The Celebrity Big Brother final is upon us! The housemates have spent the day packing their bags and Big Brother has had them polishing and scrubbing every inch of their old pad. Now all that's left is for them to polish and scrub themselves into a frenzy and squeeze their eviction outfits on.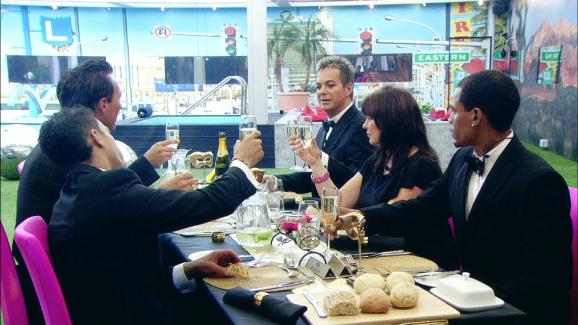 Yesterday's
last supper
seems to have relaxed the housemates and today's been one of the most pleasant days with no backstabbing, bitching or bickering, they even had a pillow fight last night! Don't worry though, I've no doubt the group will be back on form when Brian drags them out of the house kicking and screaming and they finally get a chance to have their say.
Right now though, there's a lot of love in the house. The housemates enjoyed the Q and A session during their meal and they took the opportunity to share their feelings.
Ashley started. He revealed that if he doesn't win, he'd like The Situation or Harvey to take the top spot. Martin was asked what he'd learned from his experience. "It was during the Gods and Mortals task. We could look down on the mortals and play God. We had the chance to make it easy or hell on earth and we chose to make it hell on earth, I guess I've learned that power really does go to your head... and we loved every minute of it!"
Harvey was quite emotional as he described who he admires most. "Martin Kemp, Years ago I had a terrible break up with my father and he is just how I'd love my father to be. We can talk, we chat about football and we have the same family morals... I've never said it to you, but that's what you mean."
Coleen was the first to say she'd miss everyone in the house. "All of you... I've never had the chance to meet 12 strangers and get so close to them." The Situation agreed, "we'll never forget this for the rest of our lives."
And finally there was Julian, dry as ever. "The surprising thing for me was spending time with hetrosexual men, something I've never really done... and it turns out they're quite interesting didn't it! Who knew this!"
Touching words, but who's touched your heart. Who deserves the title of Celebrity Big Brother Champion 2012?
Click the discussion bar below to leave your views...

Selena x


Don't forget to join me LIVE from 9pm tonight for the Celebrity Big Brother grand final. As always I'll be giving my views but what I really want to know is what you think. See you there!

Follow our Live Tweets...
Click to join MSN Entertainment on Facebook
Check out the MSN Big Brother special...

Selena Ledgerton
MSN Reality
Images (C) Channel 5
Are you sure you want to delete this comment?
Selena Ledgerton

Selena is MSN TV's dedicated reality TV blogger. From X Factor to Big Brother, Selena gives you live updates throughout the shows, plus news and views during the week.
Are you shocked Made In Chelsea won a Bafta?
Thanks for being one of the first people to vote. Results will be available soon. Check for results
Yes - Made In Chelsea is rubbish

228 votes

No - Made In Chelsea is entertaining

37 votes
Total Responses: 265
Not scientifically valid. Results are updated every minute.