Big Brother: Turf War Task Update
WARNING: CONTAINS SPOILERS!
The housemates have been battling it out over two days to win a luxury shopping budget, a place to sit and somewhere to sleep! Will it be the blue team or the green team?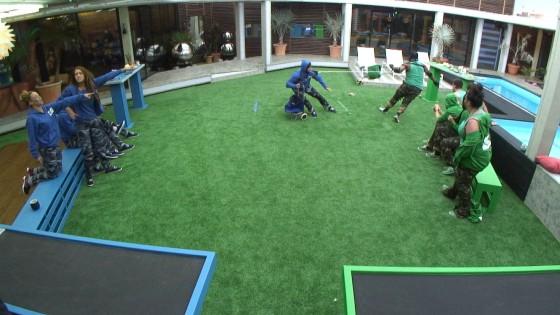 For the first task of Turf Wars, housemates were pitted against each other in a test of brute strength, time for a trolley dash!

Trolley Dash consisted of four rounds. Each round saw two housemates bound together and on the sound of the klaxon they had to pull against each other to try and reach their granny shopping trolley.

They then had to get their trolley to a shelf of shopping and bail in all they could, all the time pulling against their opponent. A point was awarded for each shopping item bagged.
THE RESULT:
ROUND ONE:  The blue team selected first and chose Sara, the green team chose Becky. Sara managed to put five items of food into her granny trolley.  Becky managed to score seven.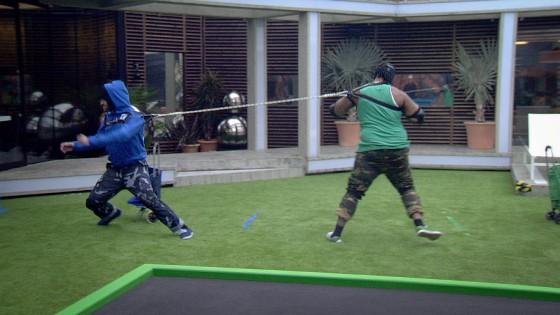 ROUND TWO: The green team selected Adam first.  The blue team put Conor up for the challenge. Adam put two items of food in his trolley.  Conor bagged a healthy eighteen items.
ROUND THREE: The blue team chose Luke A to play for them first and the green team chose Luke S. Luke A didn't manage to get anything in his trolley, so scored a pitiful zero pints, whilst Luke S scored a whopping twenty items.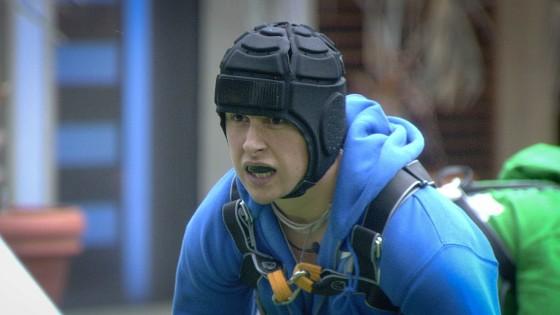 ROUND FOUR:  The green team selected Arron first and then the blue team put up Ashleigh. Arron scored twenty points and Ashleigh tore herself free from her harness, cheated, and therefore scored zero points.
The green team won with 49 points.
The blue team lost with 23 points.
The green team are now the only team permitted to enter the kitchen.  They are not permitted to pass anything from the kitchen to the blue team, with the exception of cold tap water. The losing team have been given survival rations and a small fridge of food, from which they must survive for the duration of 'Turf Wars'.
 Who fancies a nice plate of bread and a glass of water?
How do you think they're doing?
Click the discussion bar below to leave your views...
Selena x
Join me every Friday LIVE from 9pm to comment on the eviction, you can even take part on your mobile! I'll be right here every day with all the news from the house, so be sure to pop back. It's gonna be emotional...

Big Brother house revealed!
Join our Big Brother MSN page on Facebook here...
Become a fan of MSN Reality TV Blogs on Facebook
Follow our Live Tweets...
Check out the MSN Big Brother special...

Selena Ledgerton
MSN Reality
Images (C) Channel 5
Selena Ledgerton

Selena is MSN TV's dedicated reality TV blogger. From X Factor to Big Brother, Selena gives you live updates throughout the shows, plus news and views during the week.
Are you shocked Made In Chelsea won a Bafta?
Thanks for being one of the first people to vote. Results will be available soon. Check for results
Yes - Made In Chelsea is rubbish

354 votes

No - Made In Chelsea is entertaining

59 votes
Total Responses: 413
Not scientifically valid. Results are updated every minute.