Celebrity Big Brother: The Situation slams Danica and the Prince
All the latest news and gossip from the Celebrity Big Brother house...
There's a situation in the house! (Sorry, I can't help myself.)

There's been trouble brewing between The Situation and Danica ever since she was accused of leading him on. Things have got progressively worse since the shopping task began and now, it's all come to a head...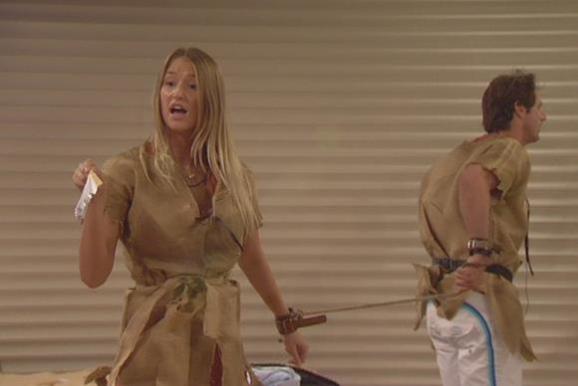 It started when The Mortals were asked to make their
sacrifices
. Danica and Prince Lorenzo were bound together while Ashley was forced to pour fish guts on his head. Within minutes of being shackled together, the sniping began.
Ashley had completed his sacrifice so he was able to watch the argument unfold with Harvey, Martin and Julie. It was fortunate that he could as The Situation was the first to say that the row wasn't down to his feelings of rejection but because Danica and Lorenzo laughed at Ashley's misfortune.
Meanwhile the Gods looked on... Martin as always was the voice of reason, "this is because of all that flirting!" Ashley nodded along but seemed happy that The Situation was fighting his corner.
Moments later The Gods had a reality check. Like the audience at home, they were able to see that something REALLY WAS happening between Danica and Lorenzo. Their faces were a picture when he sidled up to her and said 'I want you'.
Remembering that she was in a relationship he added, "if you had a clone, I would make her a princess..." Talk about tempting!
Will Danica leave her relationship behind for a Cinderella story?
Click the discussion bar below to leave your views...

Selena x


Follow our Live Tweets...
Click to join MSN Entertainment on Facebook
Check out the MSN Big Brother special...

Selena Ledgerton
MSN Reality
Images (C) Channel 5
Are you sure you want to delete this comment?
Selena Ledgerton

Selena is MSN TV's dedicated reality TV blogger. From X Factor to Big Brother, Selena gives you live updates throughout the shows, plus news and views during the week.
Are you shocked Made In Chelsea won a Bafta?
Thanks for being one of the first people to vote. Results will be available soon. Check for results
Yes - Made In Chelsea is rubbish

317 votes

No - Made In Chelsea is entertaining

53 votes
Total Responses: 370
Not scientifically valid. Results are updated every minute.