Big Brother: Lucien and Amy Dirty Dancing?
Nobody puts Child's in the corner
What can I say? I get the feeling that Amy's not happy with Kerry holding Lucien's attention.
With the eviction over (after a few drinks) the housemates gathered in the lounge for a giggle. At one point Amy and Lucien decided to re-enact the legendary final scene from Dirty Dancing and the group cheered.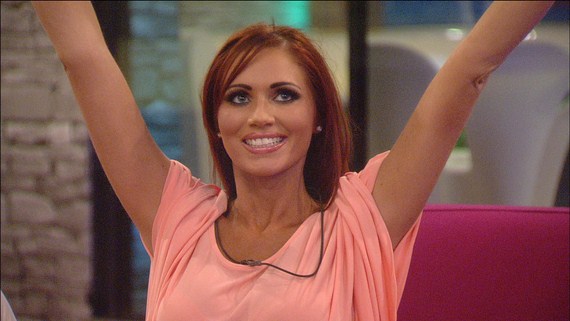 Amy's first run up was an epic fail, too much speed meant she nearly fell headfirst to the floor. Lucien suggested less of a run up and that worked a treat - for a split second Amy held her pose, reminiscent of Baby's iconic 'lift'. It was all very surreal considering Lucien was dressed in an open shirt and dark trousers, very Patrick Swayze!
The lift was all in good fun but from that point I think there was more to it. Amy's on record as saying that she thinks there's something between Kerry and Lu but she had no problem wrapping her legs around in him in a tiny black dress on her descent - right infront of Kerry!
I was just glad that when Amy went in for the post-lift hug, Lucien patted her on the back like an old pal and pulled away. It must be love.
Kerry looked visibly uncomfortable... there's definitely something there.
Should Lucien make his move on our yummy mummy?
Or do you think he's waiting for the green light?
Click the discussion bar below to leave your views...
Selena x
Join our Big Brother MSN page on Facebook here...
Become a fan of MSN Reality TV Blogs on Facebook
Don't forget to pop back regularly for all the Big Brother news and updates.
I'll be here posting like crazy, there'll be coverage of all the action as well as live blogs and chat. Yep, you heard me... it's all here so be sure to add us to your favourites and don't miss a trick! Back soon with more...

Selena Ledgerton
MSN Reality TV
Are you sure you want to delete this comment?
Selena Ledgerton

Selena is MSN TV's dedicated reality TV blogger. From X Factor to Big Brother, Selena gives you live updates throughout the shows, plus news and views during the week.
Are you shocked Made In Chelsea won a Bafta?
Thanks for being one of the first people to vote. Results will be available soon. Check for results
Yes - Made In Chelsea is rubbish

210 votes

No - Made In Chelsea is entertaining

33 votes
Total Responses: 243
Not scientifically valid. Results are updated every minute.